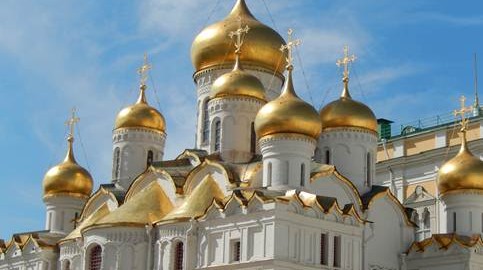 Since I was very young, I have enjoyed reading, especially spy novels and thrillers. The ones I truly loved were the CIA vs. KGB, the ones that pitted the US against the Communists. Tom Clancy, John LeCarre, Grahame Greene, Ian Fleming, Nelson DeMille all excelled in this theme. In the past going behind the Iron Curtain was something forbidden and taboo for Americans, so naturally I have always wanted to travel there. Since the fall of the Soviet Union in the early 1990s, Russia has steadily become more accessible. Visitors from the US must obtain a Russian visa, at the cost of $235. This complicated process requires a copy of your passport, hotel reservations, airline confirmations showing entry and exits, letters of invitations (you get these from your hotel), and several other forms. Kind of a backward process, as you are required to have plane tickets and hotel rooms before your visa is approved. Mine was approved within a week.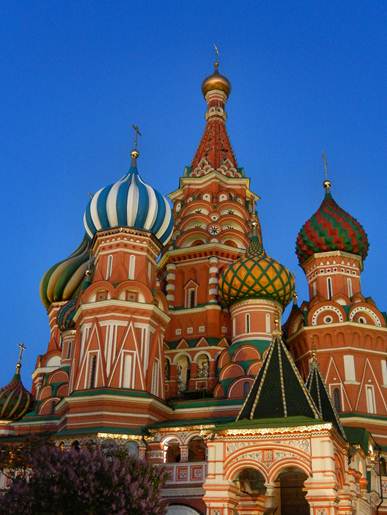 There are two main airports serving the Moscow area. Expect a ton of security, including metal detectors to enter the airport, customs, and to access the gates. Sheremetyevo (SVO) has a horrible reputation and I would avoid that one if at all possible. The newer one is Domodedovo (DME), and was quite nice. Though only 26 miles from downtown Moscow, it can take almost two hours during rush hour. Budget your time accordingly. For $50 each way, I set up round trip taxi service with Angel Taxi, and was able to do this online in advance. This made traveling easier and less stressful. I did not have to worry about traffic increasing the fare, or have to search for a taxi at 3am when I was returning to the airport.
Most of the main tourist attractions are in the center of Moscow. This is where most groups would enjoy staying, as many things are easy walking distance. Located on the banks of the river is Red Square, in the city center. Entering Red Square, one of the most iconic places on Earth, literally took my breath away. St Basils Cathedral, with the amazing onion domes, decorated in whimsical gingerbread house colors, dominates this massive square. Built in 1555, it has survived tyrants, tsars, Napoleon, communism, World Wars, and more. You would be hard pressed to find a more interesting and beautiful building in the world than St Basils.
Other sites in Red Square include the sprawling Kremlin complex, Russian history museums and the GUM, a huge upscale shopping complex in a historic building.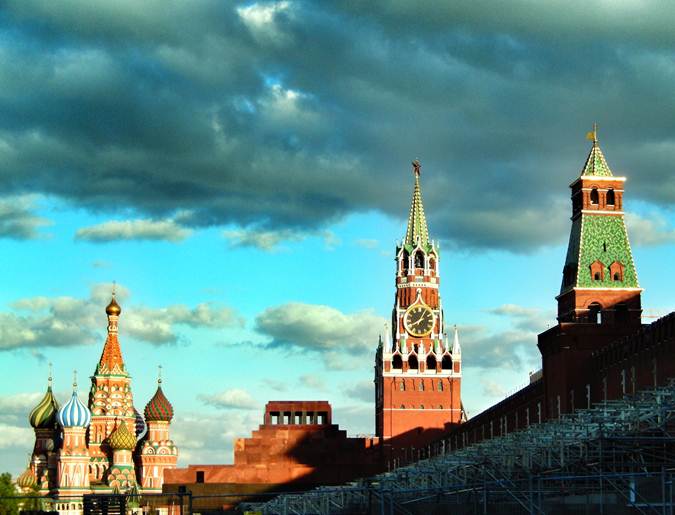 Despite having 11.5 million citizens, Moscow still does not have a huge international hotel presence. For the most part, all are small by American standards, most having around 300 rooms. Compare this to a city like Shanghai which has a similar population, but countless international hotels. Thus, Moscow hotel rates are apt to be much more expensive, as the supply is much tighter than other cities. Average rates are $407 USD, and were noted by Bloomberg to be the highest in the world a few years ago. In Moscow, you will find the major international hotel chains. Ritz, Kempinski, Crowne Plaza, Doubletree, Four Seasons, Hilton and Hyatt each have one of their flagship brands in Moscow. Marriott and Radisson both have three locations throughout the city.
The soon to open Four Seasons Moscow, just steps from the entrance to Red Square, is far and away the best location in the city. This hotel has 180 rooms and will be a bargain if you can ever find rates under $600 USD a night.
I stayed at the Marriott Royal Aurora, which was just a pleasant ten minute walk to the Kremlin. This hotel has 232 rooms with meeting space for around 200 people. Truly an exceptional location, the rooms are well appointed and nice. It is about 2 blocks from the stunning Bolshoi Theatre. I was able to enjoy a ballet on the historic stage for 100 rubles (about 3 US Dollars) by buying it from the ticket office a few minutes before it started. Still not sure how I scored that deal, but I did not ask or complain, I just enjoyed watching it on the preeminent theater in the world.
Between the Marriott and Red Square, is the 206 room Park Hyatt Ararat, which has meeting space for 100 people.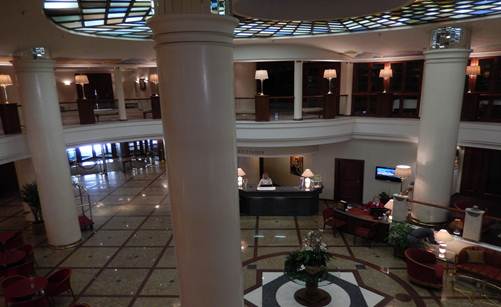 Lobby of the Marriott Royal Aurora
Situated on the banks of the Moscow River, the Radisson Royal Hotel has 497 rooms and is housed in one of the Seven Sister buildings. They were built by Stalin as a symbols of Soviet power between 1947 and 1953. Rightfully so, no one has ever praised the Communists on their architecture prowess. These buildings are an exception to that rule. The Radisson Royal has large meeting space, perfect for up to 500 people. It was the tallest hotel in the world until 1975, when the Peachtree Plaza Hotel opened in Atlanta.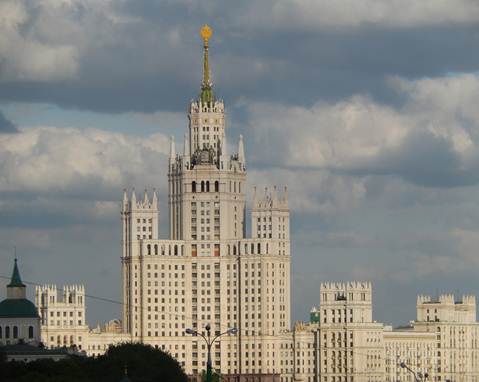 Radisson Royal Hotel
I also stayed one night at the Hilton Leningradskaya hotel, which is also housed in a Seven Sisters hotel. I found the staff here to be very pleasant and they went out of their way to make me feel at home. This one has 273 rooms, and some exquisite meeting space. It is also right across the street from a major train station and metro stop. Red square is only a few minutes on the metro vs. a 30 minute walk.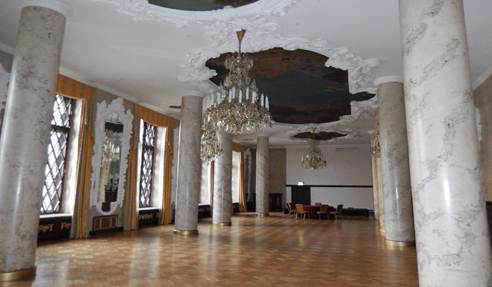 Ballroom of the Hilton Leningradskyaya
Moscow also has some massive Russian hotels, the Izmailovo complex has over 7,000 rooms and conference facilities for up to 500 people. The Cosmos Hotel has 1,777 rooms and meeting space for 1,000 people. I did not visit either of these hotels, as they were not close to the city center, but from their websites, they appear to be three star quality rooms.
Visiting Moscow was fascinating, but felt more closed off than any other place I have visited. The city itself was amazing, though it was not the most tourist friendly. Signs were all in Russian, and there are little accommodations to assist foreign visitors. Most people I met were extremely brisk, if not outright rude. Very few people spoke English, even in the hotels. But the trip was awesome, and I will not hesitate to go back one day. Stunning architecture, amazing history, just as many breath taking churches as Rome. Moscow was one of the most interesting places in Europe I have been to in years.

Top Image: Cathedral of the Annunciation, inside of the Kremlin.
All photos taken by Timothy Arnold, May 2014
All my best,
Timothy Arnold, CMP, CMM
Regional Vice President
Hospitality Performance Network – HPN Global
https://hpnglobal.com/wp-content/uploads/2014/07/cathedral-annunciation-moscow.jpg
340
483
hpnglobal
https://hpnglobal.com/wp-content/uploads/2013/04/hpnglobal-logo-web.jpg
hpnglobal
2014-07-08 15:33:59
2017-10-31 16:02:44
Destination Review: Moscow, Russia